I think it's time I knuckled down and finished a few things, so it's a great idea to join in with Sarah's Winter Stitching. I'll be making a list, I think that might keep me focused, particularly if I print it out really BIG and put it in the studio and on the fridge where I'll see it often!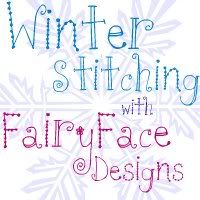 So, what's going to be on your list of things to do over the winter months?
So, yesterday I had a good day, I managed to squeeze in a little stitching on the Modern Christmas Table Runner for my secret swap partner ...
on Sunday I had my hst's sewn together, so I got busy with getting messy ...
there's something very satisfying about a lovely pile of trimmings, don't you think?
so we started the morning with 3 lovely piles of 2 1/2" HST's
and after a cancellation, a bolt out of the blue phone call and some lunch ...
I got this far before the Teenage Diva got home, and it was time to start dinner ...
oh, and I almost forgot, I got my Pea Room block of the month made too, phew, just in time!
and I managed a little FMQ'ing play, but I'll leave that for Friday :)